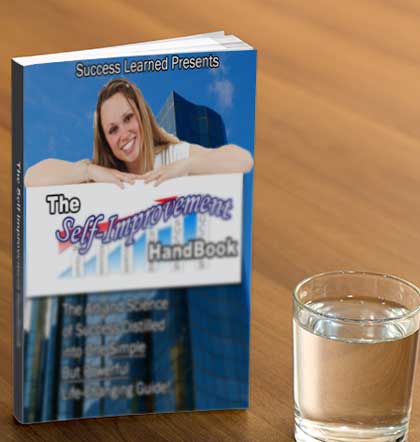 Free e-Book!
Download the Self Improvement Handbook
Sign up for our success tips download the Self Improvement Handbook with our 7 Day Self Improvement Course as a Free Download
Get Our Free E-book The Self improvement handbook free and change your life in seven days.

At Success Learned we believe that Success is just like any other skill, it requires study and practice.

To start you on the road to success and self improvement we are giving you a Free success handbook that will give you teach you what you need to know to change your life in Seven Days.

Can You Really Change Your Life in Seven Days?

The short answer is Yes! but it's up to you. You need to read our free seven day self improvement course, then take action and believe in your self.

The most important part of any self improvement course is taking action. While reading thecontent of our change your life in 7 days course will inspire you and help improve the quality of your life. Taking Action on the valuable information inside will change your life immediately and fro the better.

With our Seven Day Self Improvement program you will learn:
Day One: Learn Your Purpose in life.
Stop wandering through life withoit Direction. Our Free Change Your life in Seven days program will tell you how to find your life purpose and give excercises to help identify it.
Day Two: Know Your Lifes Values
Find out what is important in your life and define your personal values. Once you have identified these you will make sure they align with your path to success.
Day Three: Know your needs and define your goals.
Discover what you need and want in life, make specific written goals and go for them.
Day Four: Be Enthusiastic.
Know what you enjoy in life and be passionate and enthusiastic about them
Day Five: Meditation: Living from the inside out.
Learn how to increase awareness of your inner wisdom and just relax in minutes a day.

Day Six: Find your strengths.
Learn how to find your unique strengths and recognize your abilities.
Day Seven: Helping friends and family.
Topics covered in our Free Seven days Program include:

The Importance of Improving Yourself
Building Your Self-Esteem
Spiritual Growth: the Spiritual Challenge of Modern Times
Motivation: The Heart of Self-Improvement
Unlocking Your Self Improvement Power
Change Your Life in 7-Days. Your Program to Self-Improvement
10 Inspirational Self-Improvement Quotes

Just Enter Your Name & Email below to Download your free e-book.

The Download link will be sent to your email address.